Congratulations! You have been selected to attend Pebble Beach Food and Wine.
I let out a little screech that made the dog jump when I received this email from Foodbuzz. Pebble Beach Food & Wine is one of the most fancy pants food events of the year featuring celebrity chefs (Hello- Daniel Bolud, Tom Collechio, Masaharu Morimoto, and Jacques Pepin! Just to name a few), very fine wines, and one of California's most breathtaking settings as it's backdrop, and Foodbuzz was sending me to cover it!
Irvin Lin, of Eat the Love, and I set out early Friday morning for Pebble Beach hoping to check into our adorable boutique hotel, relax for a moment, and pick up our tickets for our first event, The Belgian Beer Lunch. Well, that sort of didn't happen. Our hotel didn't have room for us or our baggage- which was no big deal. We eagerly set off on the next leg of our adventure.
Well poor Irvin, doing all the driving and relying on me and my first generation Android phone for navigation (and my poor understanding of maps that are not on paper). We drove round and round and round the woods and finally good to the Inn at Spanish Bay with only 15 minutes to spare. There was only one problem. No tickets. After some calling around, Kiersten at Foodbuzz who is both professional and sweet as can be, pulled some strings, and we were walked into an event that was a step up from Belgian Beer- Sustainable Delicacies from the Sea.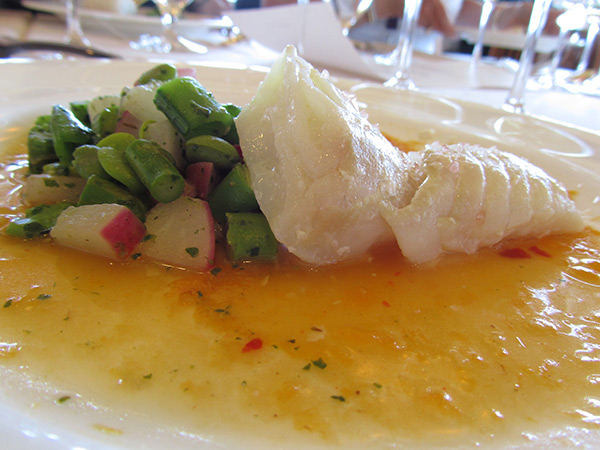 We were seated at what had to be the most fun table in the whole joint. We didn't know it right away, but Bill & Cindy and Jack & Stephanie would be friendly faces and foodie cohorts over the next two days.
The lunch had some serious high points including Halibut with spring vegetables with tangerine and tamarind sauce prepared by Ted and Cindy Walter. This dish was paired with one of my favorite wines of the weekend, a 2009 MacMurray Ranch Chardonnay redolent with ripe peach and fresh orange blossoms. I cannot say enough lovely things about this wine, and I was shocked to see a ~$18 price point on this wine. I am thinking of ordering a case to enjoy with friends throughout the warmer months. Roy Yamaguchi (of Roy's Restaurant Fame) prepared a layered and surprising dish of Hawaiian shutomi with pork belly and mushrooms- the sauce that accompanied it was a silky smooth velouté that won this girl's heart. Also, of note, was Mindy Segal's frozen chocolate nougat especially her honey caramel which she later revealed was made with a honey mead. Mindy (Mindy's Hot Chocolate) is a very cool chick, and I cannot wait to pay her a visit in Chicago.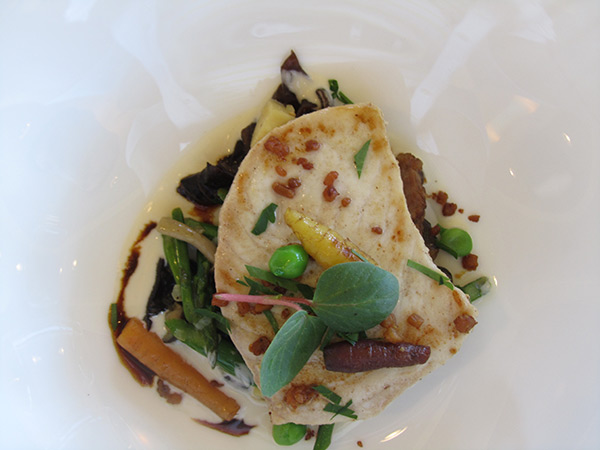 Unfortunately our ticket situation was not cleared up for the day, so we missed our early dinner with Tyler Florence, but ever generous FoodBuzz offered to buy us dinner at the restaurant of our choice. Since we weren't quite ready to eat yet, we explored Pebble Beach a bit. Being the fearless sort, we got photos of the chef's interview rooms, and the after party lounges. Check 'em out- so cool, right?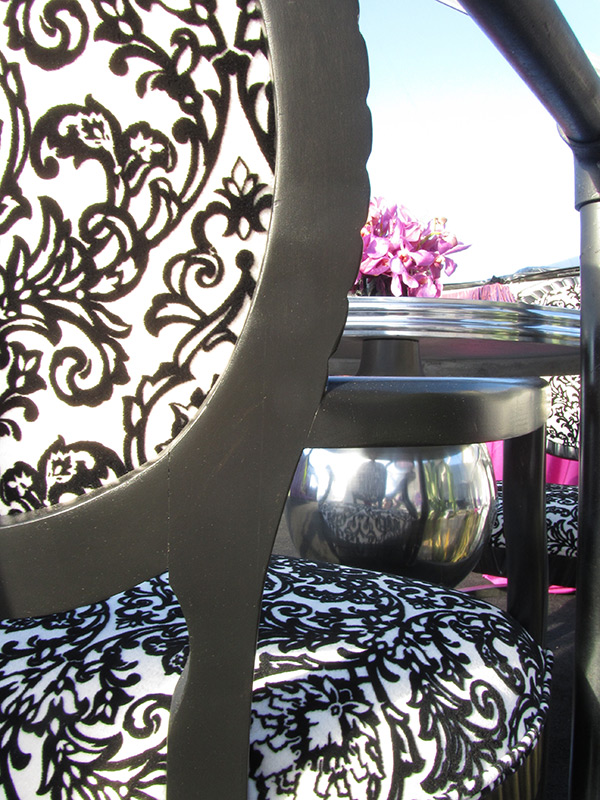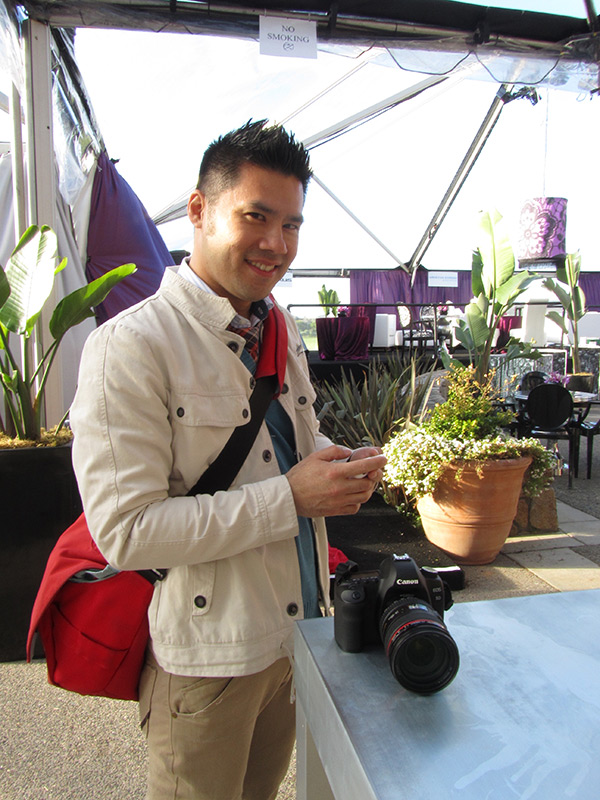 Eventually, we were ready to eat again. Irvin and I had a lovely seafood dinner at Stillwater at Pebble Beach. We had squid and artichokes with deep fried lemon wheels (you all know how I feel about citrus!), oysters, and lobster bisque, I had the abalone with cappalini and black truffles (Yum) and Irvin and scallops with lobster mashed potatoes. At some point in the evening a table of rambunctious gentlemen golfers from Canada joined us in the small section of dining room where we were eating. They were celebrating a few 50th birthdays and ordering tequila shots, and Jaegermeister; apparently, they felt badly for disturbing our "romantic" dinner. Ha! They were sweet enough to buy us dessert. We, of course, accepted.
Fewer than 12 hours later, and we were supposed to be eating grilled cheese for breakfast. Honestly, I didn't know if I could do it. Many of you know that I have been eating a plant-based diet for the past few months. Up until this point I hadn't really done dairy in more than two months. Theoretically, I had reserved one day per week for eating anything under the sun (research, you know) but I hadn't really acted on it. Well, it turns out, Melt, Laura Werlin's session on grilled cheese and wine, was one of my favorite hours of the entire Pebble Beach Food & Wine. I really heart Laura. Firstly, she knows her cheese especially her grilled cheese- the flavor profiles of each sandwich were fantastic. Also, she was so much fun to hang out with for an hour- that's exactly what it felt like.- hanging out with a friend over some grilled cheese and wine. At the end of the session, I was stuffed, but sorry to see it end. Incidentally, Irvin and I had the pleasure of chatting with Laura later in the day and she is even more delightful one on one.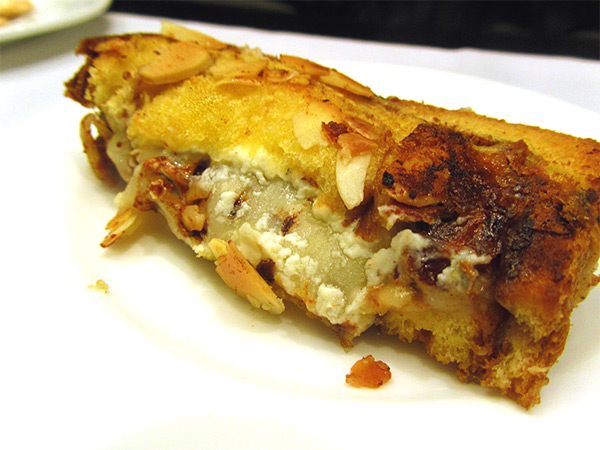 For our next adventure, we piled into a bus and headed to the Lexus Gran Tasting Pavilion. While we anxiously awaited entry, I wondered, again, how on earth I would find room to eat more food. Being the consummate professional, and for you, dear reader, I found a way.
Right out of the gate, Irvin spotted Sherry Yard, whom he has cited as one of his biggest inspirations. Not only was her booth adorable and her lemon bar the tastiest I've ever tried, Sherry was as sweet, sparkly, and gracious as her booth. She happily chatted with Irvin and I and posed for photos letting us hold the giant cookie lollipop wands.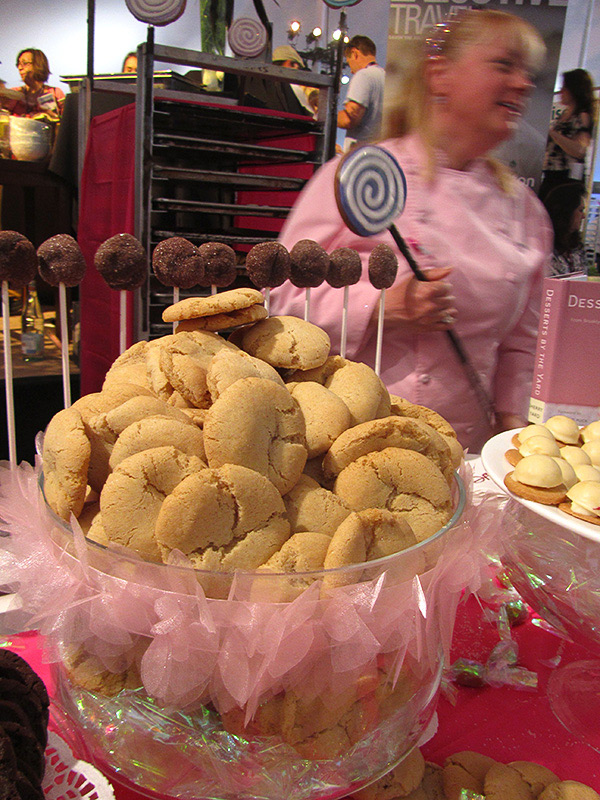 Irvin and I set about a serious eating tour of the Gran Tasting Tent and soon ran into Amy of Cooking with Amy (if you're not following her, you should be), Tracy of Shutterbean, Kamran of The Sophisticated Gourmet (wow), Anita of Dessert First (the sweetest), Trish of Dish by Trish , and Lisa of Lisa is Bossy. It was like a food blogger party! It's so fun to run into people whose blogs you follow and who you chat with on Twitter and finally meet them in real life. And speaking of meeting people in real life, here are some pics of some chefs you may recognize (with lil' ol' me)!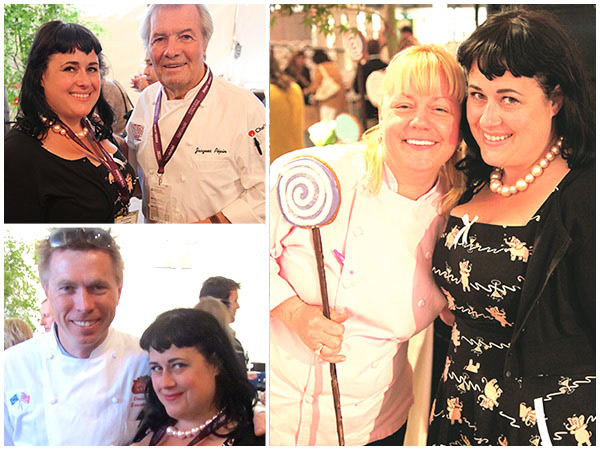 Some of the best things I tried were the hamachi sashimi with fried lotus root, the shortribs with wild leek egg salad, the butter beer shot, a crazy rich peanut butter banana s'more which was torched and oh so toasty, goat cheese and smoked duck cones with edible flowers, duck with a savory rhubarb sauce and micro chives, and a simple prickly pear soup with fennel sorbet.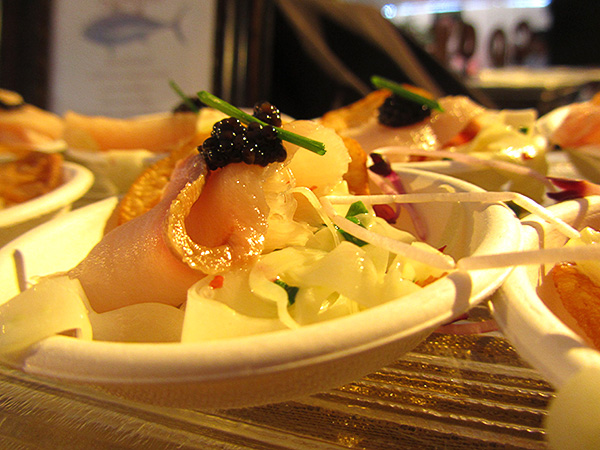 I also had the extreme pleasure of running into friends Shari and Enzo who were pouring wines from the extraordinary Italian vineyard, Jermann. It was nice to catch up with old friends and share a glass of vino. Photos of each of these dishes, friends, and more are in the gallery at the bottom of this page.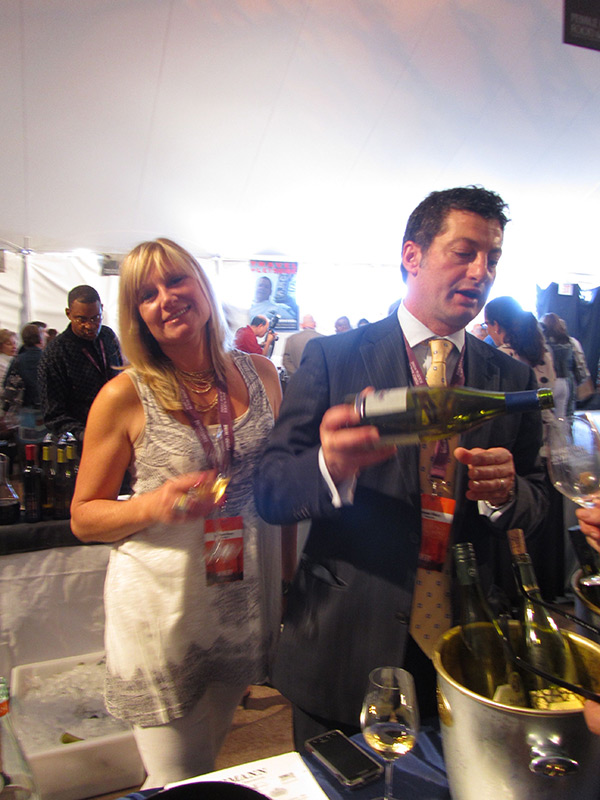 You might think that three hours of tasting everything under the sun might leave a girl fatigued, but I was ready to hop on the bus and head to the next event. I was really excited to meet Marcia from Tablehopper in person. We had a moment of bonding over festive frocks and the entire food blogger crew shared a fun-filled ride to our next destination. I was also glad for a chance to chat with Tracy of Shutterbean. I've admired her beautiful photos and lovely recipes, and it turns out I totally dig the woman behind the blog.
Our final event at Pebble Beach Food & Wine was a port tasting with Ramos Pinto. I love port, so I was looking forward to it, but since both Irvin and I are light drinkers we were both initially nervous about the lack of food being served. I don't think either of us realized how much we would have eaten by this point in the day or how extraordinary this event would turn out to be.
As we were seated, there were nine glasses of port in front of us ranging in date from 2007 all the way back to 1880! I looked at Irvin, Amy, and Molly Watson (the fantastic food writer) with a big smile on my face and mouthed "1880"? We tasted ports from the house of Ramos Pinto from 2007, 2003, 1994, 1983, 1970, 1952, 1924, 1884, and 1880. My preferred vintages were the juicy slightly spiced 1994 which had oak on the nose, but not too much on the tongue, the 1952 (which may have been my favorite) which was pure toffee goodness with loads of vanilla with backnotes of ripe fruit, and the exquisite and refined 1880 which even after 130 years still had fruit notes oak, vanilla, hazelnut and shone a gorgeous amber color. Someone asked how many bottles of this glorious golden nectar remained in existence. The answer: seven! At the end of the tasting I had a chance to talk port, Pebble Beach, and future food events with our new friends Bill, Jack, and Stephanie from the Sustainable Seafood Lunch. Though I was sorry to miss Cindy, I have a feeling we'll all be eating and drinking together in the future.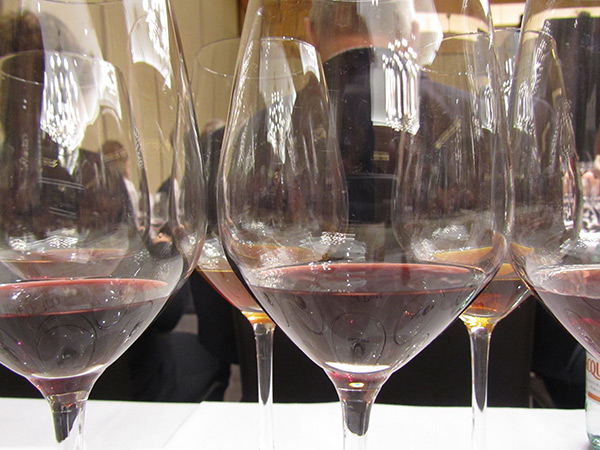 I had a blast at Pebble Beach Food & Wine. I met new friends, spent time driving in circles with someone I absolutely adore, and matched faces to twitter avatars. I also ate and drank to my heart's content. I want to thank Foodbuzz for this fantastic opportunity and for treating me so well.