Welcome to part two of Design and Branding for Bloggers or Food Blog Design Bootcamp. This is a series created by The Cusinerd and Me, The Tomato Tart.
In part one, we talked about:
basic brand elements
mission statements
and your voice
I ended the last post with a pretty bold statement.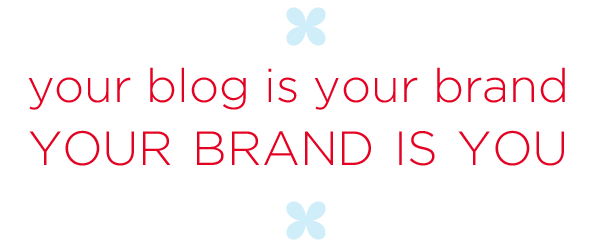 Of course, that's easy to say. You might even say it rolls of the tongue, but start to think about it and it may come off as confusing. I promise I'm not speaking in riddles or channeling Yoda. We're gonna break this down.
your blog is your brand:
To clarify, your blog is the place on the web where your brand is expressed. Each time you post, you have the chance to strengthen your brand with your words, your photos, personal stories, and recipes.
For example, there are countless recipes for apple crisp on the web, and I've probably seen at least 40 of them this season. There's one I want to share with you. It stood out in my mind, not because it's the best recipe (although it sounds fantastic), not because it has the prettiest photos (although they are lovely). Lora, The Cake Duchess's, recipe for a cranberry apple crisp stood out in my mind because of the story she told about making it with her dad.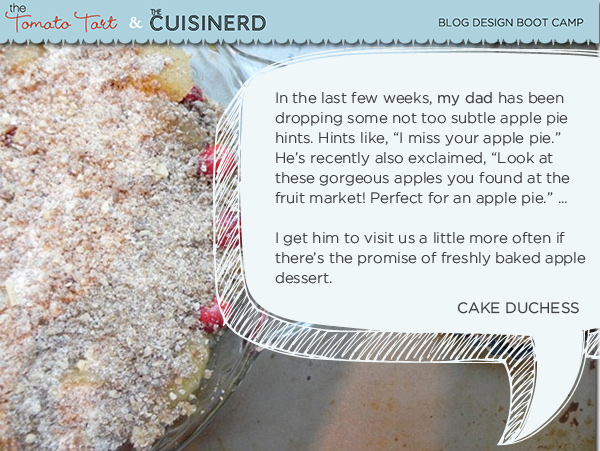 What a perfect example of standing out in the crowd. The beauty of this is that all Lora had to do was be authentic- to stay true to her mission, her life ,her brand, and her voice.
your brand is you.
When you are a blogger, a writer, a recipe developer, a photographer, the product you are dealing with is the one you know the best. If you don't second-guess yourself, you're on the right track. That's not to say, you'll build a great personal/blog brand by just being "you" without doing any legwork. Building a successful brand, even when branding yourself or your personal blog takes some work.
brand Adjectives
While your brand is not merely a list of words, selecting some adjectives to describe your blog's brand is a very important exercise to help your ideas take form.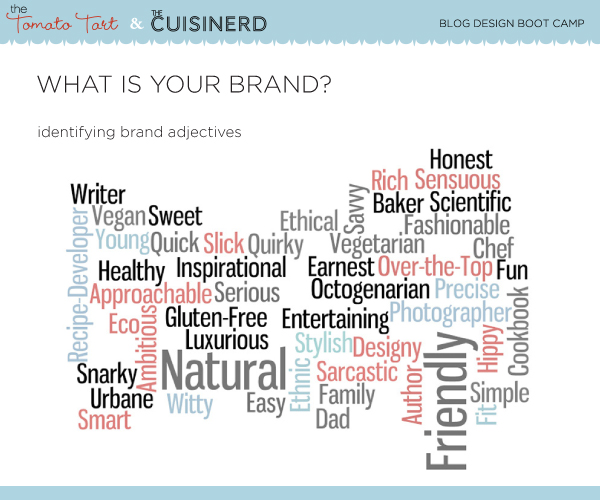 When choosing brand adjectives, try to be specific. Keep in mind that all of us who cook (hopefully) make food that is yummy, delicious, and tasty (most of the time). So these words are not terribly helpful for this exercise. Try to choose words that when grouped together paint a picture of you & your blog
I chose some adjectives to describe some successful blogs you might be familiar with:
Canelle et Vanille: natural, breezy, light, welcoming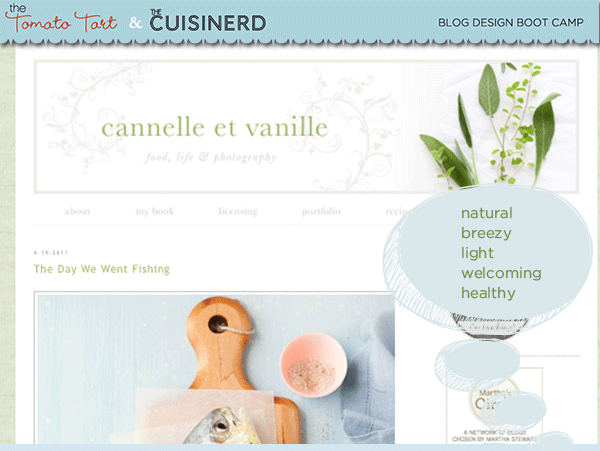 No Recipes: Clean, Simple, Conversational, Approachable
Chasing Delicious: Warm, Simple, Approachable, Friendly
Sippitysup: Fun, Friendly, Witty, Straight Forward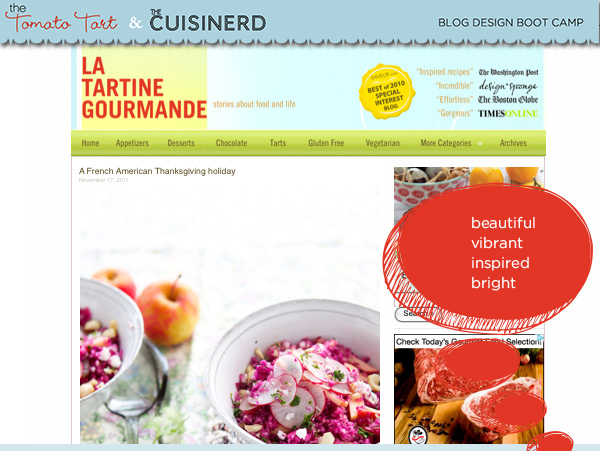 La Tartine Gourmande: Beautiful, Vibrant, Inspired
Now, how about my brand adjectives & Kristin's too?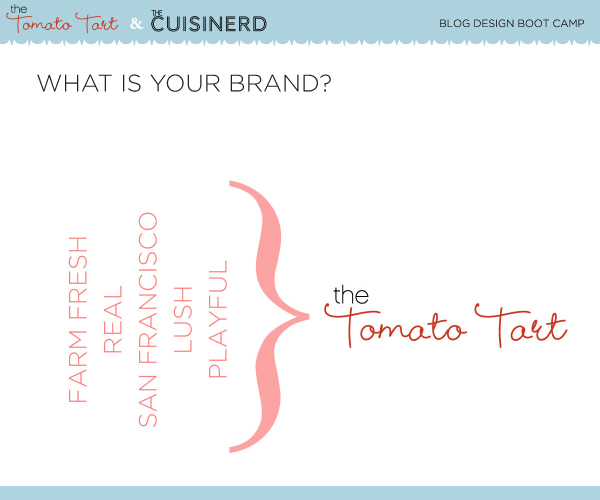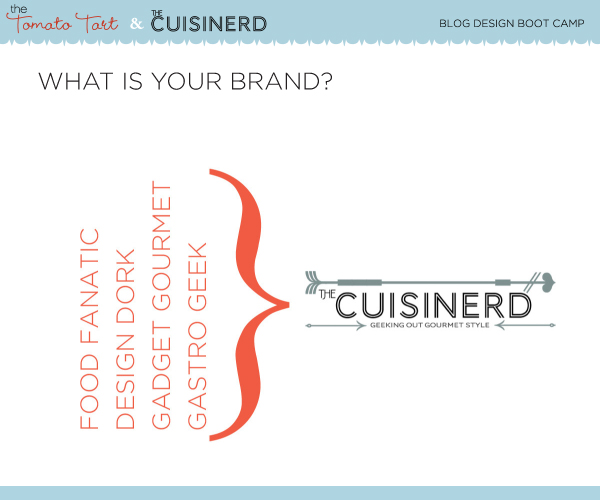 Name & Tag Line
Thecuisinerd:
geeking out gourmet style
The Tomato Tart
While you can see the vestiges of a tagline on my business cards, I am not currently using one. Someone is in the process of rebranding!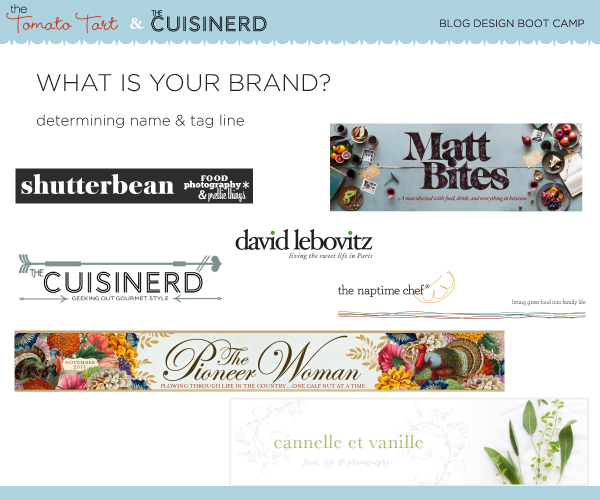 My name on the other hand is not going anywhere. While it didn't come to me right away, it did come pretty quickly. A few years ago, my brother bought me a book called Last Supper. In it, chefs discuss what their last meal would be. Mine would include a tomato tart, a frisée salad with poached eggs and lardon, and a bottle of 1985 Charlie. While tossing around names, I knew I wanted something cheeky that played with my sense of humor. In the end there were three, Well Seasoned, One Juicy Bite, and The Tomato Tart. It came down to a vote, and although One Juicy Bite actually won, I chose The Tomato Tart. It just felt like my name.
The Pioneer Woman; Plowing Through Life In The Country, One Calf Nut at A time
Cannelle et Vanille: Food Life & Photography
The Naptime Chef: Fitting Great Food into Family Life
Matt Bites: A Man Obsessed with Food Drink and Everything in Between
Shutterbean: food photography and prettie things
A good tagline should be:
memorable, communicative, impactful, relevant, brief ( try to keep it fewer than nine words)
A tagline can be descriptive those of Canelle et Vanille, Matt Bites, & Shutterbean. It can deliver a brand promise like the Naptime Chef's or it can be clever like The Pioneer Woman (whose tagline is also descriptive. Win Win!)
If done well, a tagline refresh can help update your brand message, give new relevance without a total rebrand, or launch an awareness campaign. An example of the last point was last year when I hosted the Online Bakesale for Japan, my tagline was simply home of the online bakesale for Japan.
what colors do you use?
So now that you've chosen adjectives, colors are a natural next step. Depending on the words you've chosen, you might work with bright fun colors, sophisticated black and white, soothing neutrals, or perhaps that sunny yellow that reminds you of Provence.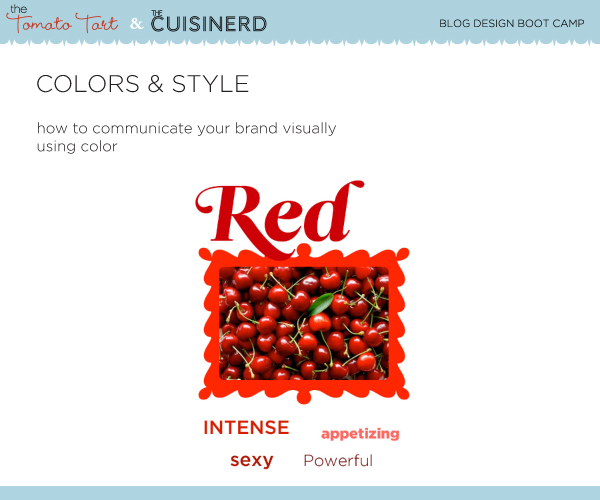 Keep in mind that choosing colors presents a fantastic opportunity to reinforce your brand adjectives. Check out some common colors and the feelings they can evoke. How do these relate to your brand adjectives?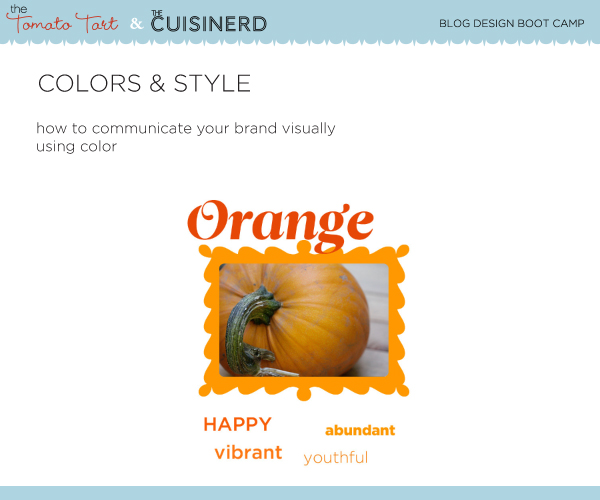 What color says about your brand.
Red: Intense, Sexy, Appetizing, Powerful, Bold, Brash,
Pink: Romantic, Soft, Feminine, Babyish, Girly
Orange: Happy, Healthy, Vibrant, Youthful, Juicy, Fresh
Yellow: Lighthearted, Young, Fresh, Smart, Citrusy
Green: Fresh, Healthy, Strong, Calm, Steady, Organic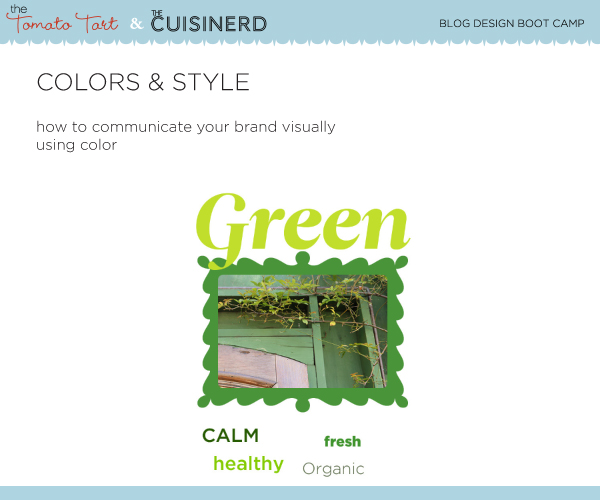 Aqua: Healing, Freshness, Modern, Retro, Beachy
Light Blue: Healthy, Tranquil, Soft, Clean, Homey
Dark Blue: Seriousness, Power, Business, Monied,
Lavender: Romantic, Vintage, Dreamy, Female
Purple: Royal, Luxurious, Darkness, Rich
Whites: Purity, Clean, Modern, Austere, Fresh
Black: Power, Elegant, Edgy, Formal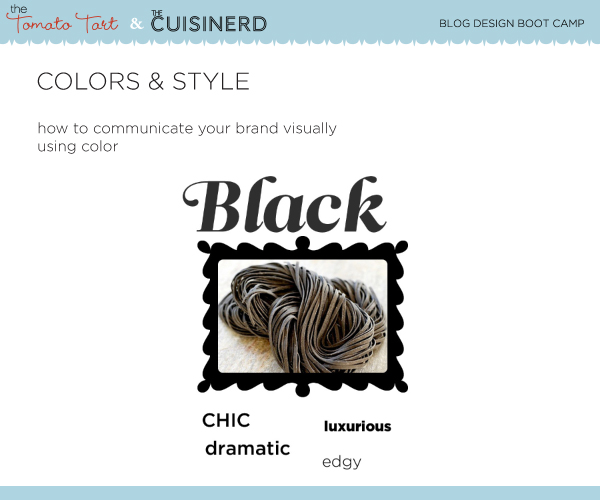 So, in part two of design and branding for bloggers (aka design bootcamp for food bloggers) we've covered:
brand adjectives
names and taglines
and color
Please go back and read part one if you haven't yet. Or heck, read it again. Also, share this with friends, bloggers, writers, photographers, and creative types on Facebook, Twitter & StumbleUpon the buttons are right below this post. I love comments and questions too. You ask, I promise to answer.
Check out part 3 on The Cuisinerd's site. It's pretty darned awesome- almost as awesome as she is.