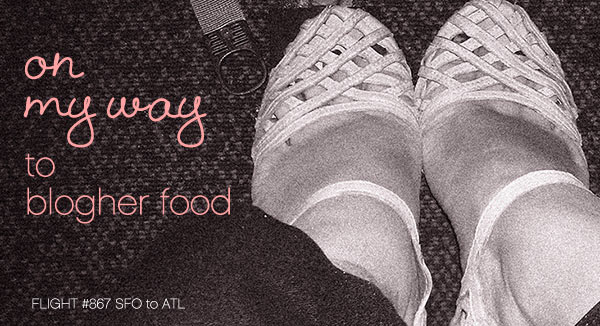 So, I may have written my first post on Blogher Food on the plane home, and my second one over the first three days I was home. Overall, I think there are 2,500 words in my trash bin. My time in Atlanta was such a whirlwind, it was difficult to find a way to describe it.  I hope this conference survival guide/blogherfoodalogue will suffice.
1.You can never be too prepared or have too many pretty dresses:
Irvin and I worked late nights and long Saturday afternoons in cafes getting ready for our session on Branding and Design for Food Bloggers. In the weeks leading up to the conference, If I wasn't working on our presentation, I was certainly thinking about it.  Of course, it wasn't all work, I was also thinking about which dresses to pack. All of this working & wardrobe planning really seemed to pay off as I got very kind feedback on both the panel we lead and my choice of dresses. As a side note, a modified version of our presentation will be available for download, soon. Another note, I buy most of my dresses at pinupgirlclothing.com and bettiepageclothing.com
2. Be like the president:
Irvin & I booked separate flights- 20 minutes apart from the same airport. Mind you, this was not on purpose or anything.  But, when his flight was delayed for 5 hours, and he was told "Boarding is not imminent", there was a part of me that was thinking it was a good thing that one of us would be in Atlanta for our presentation. Incidentally, the other parts of me were thinking that I was not to keen on flipping through 160 slides all by myself.
3. Sample the local fare, but eater beware:
My largely plant-based diet went way out the window while I was in Atlanta.  I love regional cuisine, so while traveling, I try to get the feel of a place through my favorite sense, taste. After fried pork chops at Mary Mac's Tea room, Sublime donuts delivered to our room at The Four Seasons by sweet Broderick of Savory Exposure, chicken livers from Social wine bar, a super delicious hot dog from Doggy Dogg at the adorable Sweet Auburn Curb Market, I found myself seeking some simple fruits and veggies. Even the veggies I did find were fried- or butter or cheesed or all three. By the end of the trip, I was not feeling so hot.
My point is, if you have dietary restrictions, save yourself some stress and bring easy to pack snacks. Some of my favorites are apples, Lara bars, hazelnuts, and Justin's nut butter in the individual packs. That way when you get to a restaurant and there is nothing vegan/glutenfree/dairyfree/plant-free/or strict fruitarian on the menu you don't have to sit and watch your other 19 dining companions eat. Of course, you can do like me, and dig into a softshell crab sandwich at Cakes & Ales and worry about the fruits and veggies next week.
4. Wake up early, stay up late, but know when to take a nap or a walk:
I know many people have addressed conference anxiety and feeling left out or snubbed, and being in a crowd of 500 is tough even for the most gregarious person. I had very little sleep during my trip to Blogher Food, and not much in the days leading up to it, but I did sneak in some down time.  In between the last session on Friday and the Tasty Kitchen party at the Ritz, Linda of Salty Seattle & I snuck off for some girly time, a little walk, a cocktail and a snack. Just an hour away from the crowd, the fluorescent lights, and the noise, with a good friend left me refreshed and ready to take on the rest of the night.
5. Have Fun!
I truly enjoyed myself at Blogher Food. I made some amazing connections. I don't mean that in the networking way; I mean that in the way that I sat down and had great conversations with people. From chatting over late night cocktails with David Leite & Michael Porcopio to planning to hop on a boat and fish with Hank Shaw when he goes out with Iso Rabbins of Forage SF.  I met "old friends" Christianna and Ilke for the first time, and spent a little time with people whose work I really love like Aran Goyoaga of Cannelle et Vanille, Garret McCord of Vanilla Garlic, and Dianne Jacobs just to name a few.  Friendships were deepened with people I've known for a good long while in person & virtually. Love to you.
6. Stay in School:
I learned a lot in the sessions I attended. The photography session led by Aran, Tami Hardeman, and Stephanie Shih was amazing and gives me something to strive towards. The travel writing session with Amelia of Z Tasty Life, Donna Pierce, & Diana Kuan and moderated by Garret McCord of Vanilla Garlic had great advice like "go naked" and "expose yourself". Okay, to be fair, that was completely out of context. But, still, I would like to tag along with Amelia on some trips; I'm thinking we'd have  a pretty good time.  On Friday afternoon, I sat in on on the Kitchen Generation's panel– talk about a gaggle of talented people. Kamran, Lauren, Elissa, Tessa, and Hannah, are just about the coolest. I am so glad I got to hang with them a bit. I don't know if it speaks to their maturity or my lack of it that I kept forgetting I was old enough to be each of their mothers (a very young hot mom, but a mom nonetheless). And finally, there was charcutepallooza! My friend Sean Timberlake of Punk Domestics led this session with Kim of Yummy Mummy & Mrs Wheelbarrow. There was a lot of naughty talk, and a lot of hot & tasty sausage. Ooops, there I go, again.
7. Be Yourself:
At my first blogging event, I thought to myself, "Uh oh, I don't look like a food blogger. I don't fit in here." I had major conference anxiety.  The other women at the event looked more successful, or younger, or older, more fit,  more put together, or just less "rock and roll" than me. I was sure everyone already knew each other. It was like the first day of high school all over again, but, wait a second, I was 37 years old, not 14. I took a deep breath and decided to speak to the first people I saw. I turned to my left, and there were Marc from No Recipes, John from Food Wishes, and Greg from Sippity Sup. I completely interrupted their conversation, and said "Hi, I'm Sabrina from The Tomato Tart". Of course none of them had ever heard of me, but that didn't stop them from being super warm and welcoming.  That event was Foodbuzz Fest 2010, and my blog was five weeks old.
This time around, things were different; I know people. Each one has it's own unique personality.  The Tomato Tart is me, so fancy dresses, petticoats, tattoos, red glasses and black hair is exactly what a food blogger looks like. Well, it's what this food blogger looks like, anyway.
And so that's it, I hope my survival guide helps at any upcoming conferences. If we haven't met yet, I hope to meet you at an upcoming event, and if we have met, I'm sure it was a pleasure and I look forward to seeing you again. That is, unless you snubbed me. Just kidding!
X
Sabrina
What are your thoughts on food blogging conferences? Have a blogher food writeup you'd like to share? Leave a comment below: