One year ago, I began what was supposed to be a 28 day vegan cleanse.  A day or two in, my husband jumped in with both feet. For this cleanse, Joshua and I cut out all meat, dairy, gluten, refined sugar, alcohol, and caffeine. In total, we stayed off of meat and dairy for two and a half months.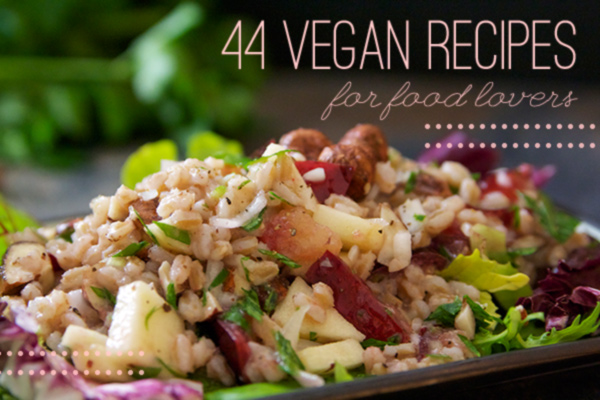 The impact of those 70 days has been much deeper and longer lasting that we could have ever imagined. As we added the meat and dairy back into our diets, it was in smaller portions and much less frequently.  My love for fresh fruits and veggies is well-documented, but I came to love grains, nuts, and seeds like never before as well- and don't even get me started on nutritional yeast!
Whether you are vegan or not, the choice to incorporate more plant-based meals is a healthy one and (as evidenced by this list) incredibly tasty. Preparing vegan meals also made me a better cook.
Here is a list of 44 fabulous vegan recipes- a few from this site, a few I've written for other sites, but mostly just some drool-worthy food you probably need in your life.
Breakfast
Banana Nut Waffles
Vegan Rice Pudding
Springtime Tofu Scramble (gorgeous—just add nutritional yeast to make it over the top amazing)
Fluffy Vegan Pancakes
Sweet Potato Hashbrowns
Veggies & Salads
Roasted Broccoli with Sriracha and Soy Glaze
Lentil and Pomegranate Salad
Kale Salad with Toasted Coconut and Sesame Oil (YUM!)
Roasted Pumpkin Salad … get the recipe
{ 14 comments }